TEACHING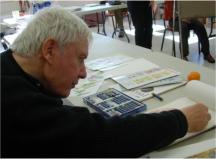 At Margret Krakauer's studio class
in Wayland, MA
Learning to paint is learning to see everything around you in new ways, and the process of choosing what to paint and what medium to use is one of self-discovery.
Before studying art I earned graduate degrees in Biology and Social Work, and I find both useful as an artist and teacher.
As a Biologist, I was endlessly fascinated with all living things. Nature inspires much of my art, and in turn, painting has honed a more subtle perception of nature. Whatever your chosen subject matter, painting it will allow you to see it in a new light.
My training as a Social Worker helps me create an open and relaxed atmosphere in which students can explore and find their own vision and direction as individual artists.
Everyone can learn to paint, and even students who don't go on to become artists will find learning to paint a fruitful journey, one that opens the door to a fresh way of seeing the world.



More about Margret Krakauer
Classes
Contact